Monday, October 4, 2010
Flower Still Life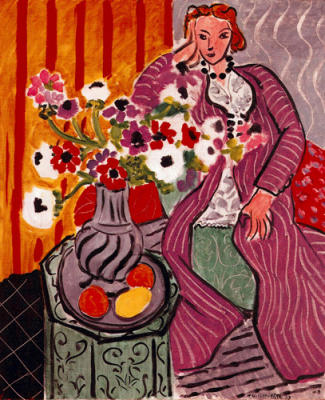 Students begin by looking at Henri Matisse paintings in a power point. We talk about the patterns and how he repeats colors at least three times to keep our eyes looking around the painting.
We also look closely at how he creates vases in his paintings.
Next we work together to get our vase on the paper, then we make it the shape we want it. We create an entire "under drawing" in a very light color (peach or yellow). Then we create the table to go behind the vase - we talk about how it would look like it was hovering in mid air if the table went below the vase. Next we put a large flower that touches the top of the page. Then one that touches each side. Students will fill in as many flowers as they want - then we will move on to color.
I show students how to add color in at least three places, fill in solid, make a shadow on the vase and table. We also talk about if they want the vase to be see through (transparent) or solid (opaque).
Once all the flowers are colored in they add the stems and leaves - to go straight from the flower into the vase, going behind other flowers (not around).
Final touches are patterns in the back - making sure to leave room for paint.
See a pattern here?
K - Dream Houses
,
1st - Y Trees
, and 2nd all work with the oil pastel and water color resist method. This helps the beginning of the year run smooth and I can keep the same materials set up for the first month or so since they are not all using the watercolor at the same time.
This year:
Posted by

tishalou
at 8:43 PM